Bridges Pharmacy Newsletter April 2016
Inquiring Minds Profile:
Jennifer Cocohoba, PharmD, MAS
By Scott Myers, UCSF School of Pharmacy Class of 2019
Jennifer Cocohoba, PharmD, MAS was a student in the last cohort of the UCSF School of Pharmacy pre-Pathways curriculum, thus she has experienced several curricular changes during her transition from student to resident to faculty member. That pioneering spirit, coupled with postgraduate training in Clinical Science, Social and Behavioral Science, and Epidemiology and Population Science serves her well in her roles as a practitioner in the UCSF Women's HIV Program and as researcher examining pharmacy-based interventions for improving patient adherence to antiretroviral therapy. Dr. Cocohoba also brings that science into the classroom, where she has made several changes to the methodologies used in the courses in the first-year Pharmacy Practice series.
As a professor who has piloted a pedagogical model called "the flipped classroom," in which the typical lecture and homework elements of a course are reversed, can you tell us some of the benefits you've seen?
The three-course Pharmacy Practice series focuses on over-the-counter therapeutics and self-care for patients. This is the first year I've taught a flipped classroom model and it was a fantastic experience. The idea arose directly from student evaluations. When I tried to run the course as it was run before, I got very strong feedback from the students that they did not feel engaged with the format.
With the availability of lecture capture technology, the students preferred to read or listen to the lectures on their own time at home. This allowed me to use class time a different way to really apply the concepts to help reinforce learning. The leap from memorizing to applying is really difficult. Students can use the tenants taken from reading and from listening to a lecture, and then try to apply them to a specific patient situation in the classroom. Active teaching and learning methodologies like the flipped classroom will play a key part in the delivery of the Bridges Pharmacy curriculum.
Today's healthcare landscape calls for pharmacists to be able to problem solve efficiently and effectively. How do you think Bridges Pharmacy will help better facilitate this process?
I believe that our traditional methods of learning allow us to take our time. In a lot of cases that is good, as you want to be thoughtful and deliberate in your actions. However, when you are on the wards with someone asking you for a recommendation, you don't have three days to figure out what the best medicine and dose is for that person.
The active learning classroom not only teaches the applicability of the actual material to patient cases or future practice, it also has the additional payoff of concepts like thinking on your feet, teamwork, flexibility, and adaptability. These things can't be learned entirely in the classroom. However, you can certainly be a strong part of the puzzle that prepares a student to be ready for that when they get into their introductory and advanced pharmacy practice experiences.
Your time as a pharmacy student, a postgraduate trainee, and now as a faculty member at UCSF has allowed you the opportunity to see UCSF evolve. What from your previous educational experiences would you like to see carried over into Bridges Pharmacy?
When I was a student pharmacist, there was a strong emphasis on the linkages between the basic sciences and pharmacy. You have to be aware of the advances in the basic sciences to understand what is coming in the future for clinical practice. Our strong emphasis on the sciences should always be a part of our curriculum.
Another aspect that should continue is UCSF's ability to bring together the different clinical pharmacists of multiple specialties found in our core faculty, volunteer faculty, and alumni networks. UCSF does a great job in utilizing the expertise of our whole network to really enhance the education of our students.
What advice do you have for students as they transition into their professional life?
My advice to students is to be flexible. If it's conscious or not, I believe we all walk into school with an expectation of how we think things are going to go. Whether that is expectations in education, future practice, or patient interaction, we all come in with this notion of how it should be. I find that expectation is the greatest challenge to flexibility. If you are constantly constraining yourself to how you think things are going to be, it limits the possibilities of how things actually could be. Flexibility is going to be a critical skill to prepare student pharmacists for the changing environment of the future. If you are rigid in your ways, you may not adapt well to how fast pharmacy is changing, or to the problems that you will encounter as the pharmacist. Being flexible, adaptable, and creative helps you be a solid member of the team.
Students Provide Input on Bridges Pharmacy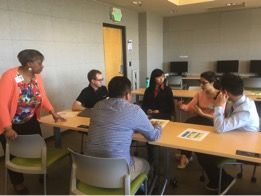 In April, pharmacy students participated in a Brown Bag-style event with faculty and staff to discuss the Bridges Pharmacy curriculum. Representatives from the Student and Stakeholder Advisory Committee led small group conversations about different elements of the curriculum, including core, experiential, and frontiers, as well as discussions about student well-being and interprofessional opportunities.
Bridges Pharmacy Updates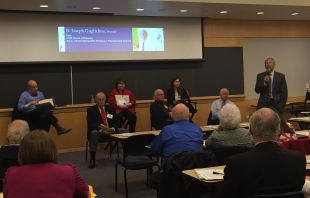 Curriculum Transformation Panel at Alumni Weekend
At UCSF Alumni Weekend, Bridges Pharmacy work group chairs
Patricia Babbitt, PhD
;
Marcus Ferrone, PharmD
, JD; and
Mitra Assemi, PharmD
joined William Smith, PharmD, MPH, PhD; Robert Day, PharmD; and David Adler, PharmD to discuss the curricular innovations at UCSF School of Pharmacy from the 1960's to today.  
Honors & Awards:
Sharya Bourdet, PharmD, BCPS, a volunteer faculty member based at the San Francisco VA Medical Center, was named a Master Preceptor by the American Association of Colleges of Pharmacy (AACP). The award recognizes dedication and commitment to excellence in experiential education and professional practice and no more than one preceptor is recognized in each of the eight regions of the National Association of Boards of Pharmacy (NABP). Read more about Dr. Bourdet's award and other recent national educator awards for School of Pharmacy faculty.
In the News
Dean B. Joseph Guglielmo, PharmD, discusses pharmacy education, including the importance of critical thinking and problem solving, in the Pharmacy Times. Read more about Dr. Guglielmo's comments.
Calendar
The Bridges Pharmacy calendar includes the following recent and upcoming activities:
Wednesday, May 4, Student and Stakeholder Advisory Committee
Thursday, May 5, School of Pharmacy Commencement for Class of 2016
Monday, May 16, 3:00-4:00pm in N225: School of Pharmacy Town Hall on curriculum transformation for SOP faculty and staff

Contact Us
Contact us at [email protected] or on the Bridges Pharmacy website if you have questions or are interested in getting involved in Bridges Pharmacy.
---
Curriculum project name change: As we began transforming our PharmD curriculum, we referred to our work as the UCSF Bridges Pharmacy Curriculum Project. We now refer to our work as the UCSF PharmD Curriculum Transformation Project: 2018 and beyond.