Bridges Pharmacy Newsletter July/August 2016
Inquiring Minds Profile:
Nancy Hessol, MSPH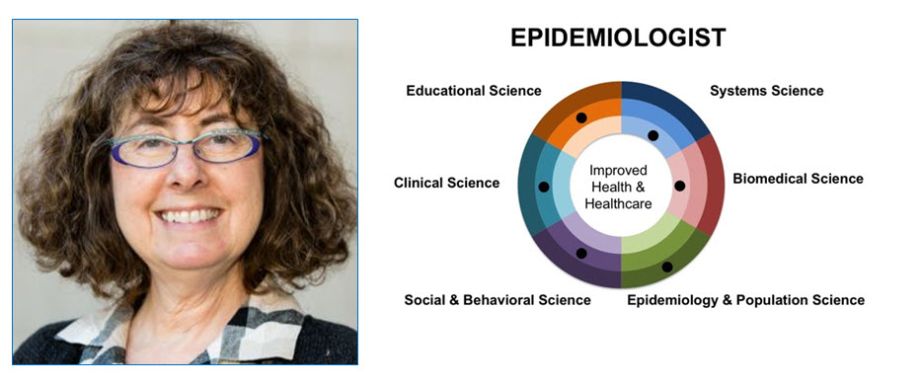 Nancy Hessol, MSPH
Professor
Department of Clinical Pharmacy
By Scott Myers, Class of 2019
As an epidemiologist in the Department of Clinical Pharmacy, Nancy Hessol's main areas of interest and research are HIV infection and its adverse health outcomes. After an undergraduate degree in biochemistry, Ms. Hessol completed graduate training in epidemiology at UCLA. Her extensive research experience includes work in environmental and occupational epidemiology at the Hanford nuclear facility in Washington State, infectious disease epidemiology at the San Francisco Department of Public Health AIDS office, and clinical epidemiology with the UCSF Women's Interagency HIV Study. Ms. Hessol is an integral course director and research preceptor for the Health Services and Policy Research (HSPR) pathway in the UCSF School of Pharmacy's PharmD program, and is a member of the Center for AIDS Research (UCSF-Gladstone CFAR) Internal Advisory Board and the Helen Diller Comprehensive Cancer Center. She also chairs the UCSF-wide Research Allocation Program (RAP) committee on Clinical HIV/AIDS, Infectious Diseases, and Global Health.
What was the defining moment that led you to choosing a career in epidemiology and public health?
When I was an undergraduate, I was working in a biochemistry lab, and some of the women in the lab were having some unusual shared health problems. One day, in walked a team of epidemiologists from OSHA, who investigated the incidents with some key questions to figure out what was causing their symptoms. They applied a precise methodology and statistics to find an invisible culprit. I said to myself, "Gee, that's an interesting job!"
At that time I was doing bench science, trying to isolate protein initiation markers from human placentas—and I decided it was time for a career change. I loved the idea of utilizing my science and math background and getting training in statistics and epidemiology to applying research skills to solve problems. For me, that training was very satisfying and was an excellent career choice.
Your work in HIV research is well known. What attracted you to research in this area?
As an epidemiologist, you're naturally very interested in emerging epidemics. AIDS (although it wasn't initially called AIDS), was one of the most challenging emerging diseases in the early and mid-1980s. I was fortunate to have landed a job with the San Francisco Department of Public Health, in the epicenter of what was really the cutting-edge work at the time. I worked very closely on developing questionnaires, trying to find out what the risk factors were for people who were getting this very strange constellation of illnesses and cancers, and also to identify the adverse health consequences of having HIV infection. We were among the first group of investigators doing natural history studies of HIV infection, estimating the time it took from acquisition of the virus until first signs and symptoms of disease. The data that we generated was extremely useful, from public health and policy planning to economic forecasting, as well as clinical management of people living with HIV.
Studying HIV was scientifically challenging, but to me it was satisfying on an emotional level and made me feel that I was contributing to society. I've never regretted that choice and I hope to continue to do HIV research for years to come. I think it's fascinating. And as things change, there's still more work to be done. Currently, there are a lot of effective antiretroviral drug therapies and people can live longer, healthier lives. Because of effective therapies, HIV is more of a managed disease—but that doesn't mean we can be complacent. There are still many things yet to be studied and improved upon.
What are the current frontiers in your research?
One of my main areas of research focuses on HIV-related malignancies. Although new drug therapies have radically reduced the incidence of diseases like Kaposi sarcoma and non-Hodgkin lymphoma, there are other cancers emerging as being more prevalent among people with HIV, such as anal cancer, which may be exacerbated by HIV infection. There are also other types of seemingly non-HIV-related cancers, such as lung cancer, where a person living with HIV may progress in disease more rapidly and be diagnosed at a later stage compared with HIV-free populations.
How do you view the Social and Behavioral Science domain entering into your work and student pharmacist training?
When you do human research studies, you need to take a holistic approach. You shouldn't just look at one thing in isolation. For example, you shouldn't examine the natural history of a disease without factoring in the behaviors and lifestyles of the patients. The social and behavioral sciences definitely play a critical factor in the examination of any human condition.
What do you see is the importance in pharmacists drawing from the six Domains of Science for their training?
I generally see healthcare as being interdisciplinary. The team science approach, where you have an array of experts, allows pharmacists to play an integral role. If pharmacists are the experts when it comes to drugs, then that really spares other professionals from having to be completely well versed and up to date on medication recommendations. When I publish papers, I never do it just by myself; it's always a team effort. It adds more complexity, but the rewards of having a multidisciplinary writing team are very worthwhile. I believe the six Domains of Science prepare student pharmacists for these types of team interactions.
I also believe pharmacists can be excellent researchers. With training in all the domains, you have the ability to apply those sciences on a population level and not just on an individual level—which is fantastic! The new curriculum exposes student pharmacists to research as being a part of both their training and their careers after they graduate.
For students unsure of where their research interests fit, where would you recommend that they begin and how would you direct them to find their own interest?
With the Frontiers in Science portion of the Bridges Curriculum, there will be an opportunity for students to listen to researchers speak about their projects, and that will expose students to a whole variety of different types of research. If you find a topic that really piques your interest, then you can find out who is doing research in that area. You would be surprised at how many of the faculty members have expertise in a multitude of different areas. You might think that there's no one who does the type of research you're interested in, but once you start talking to people, they'll say, "Oh, you know who does that?"
Additionally, one of the plans for the new curriculum is to have a smorgasbord of different kinds of research areas that students can go into with faculty mentors in mind. If a student says that they're interested in HIV, they'll know you can work with this person or with that person. You could even huddle together with a group of other students and work on doing completely novel investigations. In the Bridges Curriculum there will be several good opportunities to find your fit.
I'm also very excited about the depth projects. For somebody who is passionate about the idea of having to do a thesis project as part of their graduate work, I think it's an excellent addition. For many years, clinical training did not include in-depth research work; however, for those of us on the research side, that's primarily how we discovered where our interests and talents reside. So this, to me, is a nice marriage of the two—where you are trained on clinical skills, but you are also able to apply them and solve a problem or answer a question that's of particular interest to you. I believe it will make UCSF PharmD graduates more marketable. They will stand out when they apply for residencies, fellowships, and jobs as pharmacists. Our graduates have, and will continue to have, a unique set of skills that they will bring to the table.
Statistics is a key component in your work. What do you tell students who are interested in epidemiological research but are daunted by statistics?
You don't have to become an expert statistician. Just knowing the basics of statistics can really help you as a clinician and will definitely help you as a researcher. Learning more about different ways to critically appraise the literature is a good way to get students excited about it. In my Study Design Evaluation course, when I start talking about statistics, my class is initially daunted at the mention of a P-value or a confidence interval. However, once a student begins to question a paper where the authors make an unwarranted conclusion that this drug works based on a very wide confidence interval—you can really see the light bulb turn on. When you turn it around like that and start criticizing how someone else has incorrectly used statistics, it suddenly becomes more fun to know more about it. It's nice to see the students start to grasp these statistical concepts and want to learn more about how to interpret statistical results, so that they can decide whether or not to believe the study's conclusions.
I also think that because student pharmacists are taught to use mathematics in the formulas and equations of dosing and through the study of pharmacokinetics and pharmacodynamics (PK/PD), just taking it to a different level is actually not so hard. When I teach students formulas to calculate an odds ratio or a number needed to treat, everyone gets it right away. Even though some students may be daunted by statistics, I think the students really pick up on those skills very well.
Do you have any other advice for students?
My advice for students is to do what you love and love what you do. I believe if you follow the path that you're excited about, you'll be a much happier person. I think it's also important to lead a balanced life. Finding a hobby—something outside of school or work—is key. For me, outside of work, I find joy in the outdoors and photography. My subjects are the natural beauty of landscapes and animals that I love. I take the opportunity to capture wonderful memories of what I've seen while traveling or hiking the outdoors, and I use some of these photographic memories in my lectures. Having an outlet is good for students too, whether it's a creative outlet, hobbies, or exercise.
Curriculum Transformation Update
This summer has been productive and the curriculum transformation process is well under way. Our focus has been defining the governance structure and decision-making processes that will guide the creation of the new curriculum.
The Curriculum Transformation Team (CTT) is responsible for the buildout of the curriculum and the Bridges Implementation Coordinating Committee (BICC) is responsible for the establishment of transition and implementation plans for the new curriculum.
Both groups work very closely together, communicating with one another about resource needs, resource limitations, and the impact of decisions made throughout this process on faculty, staff, and students.
CTT Membership
Sharon Youmans (Chair)
Mitra Assemi (Assessment)
Fran Aweeka (Inquiry/Exploration)
Patricia Babbitt (Inquiry/Exploration)
Valerie Clinard (Experiential)
Marcus Ferrone (Education Policy Committee)
Leslie Floren (Advanced Training)
Sue Miller (Inquiry/Exploration)
Igor Mitrovic (Integrated Block Curriculum)
James Joves (Facilitator/Manager)
Michelle King (Administrative Support)
BICC Membership
Don Kishi (Student Experience)
Susan Levings (Communications)
Rebecca Miller (Technology & Systems)
Michael Nordberg (Finance/People Resources)
Cindy Watchmaker (Facilities/Infrastructure/People Resources)
Contact Us
Contact us at [email protected] or on our website if you have questions or are interested in getting involved in curriculum transformation.
---
Curriculum project name change: As we began transforming our PharmD curriculum, we referred to our work as the UCSF Bridges Pharmacy Curriculum Project. We now refer to our work as the UCSF PharmD Curriculum Transformation Project: 2018 and beyond.