Bridges Pharmacy Newsletter May/June 2016
Inquiring Minds Profile:
Francesca Aweeka, PharmD
By Scott Myers, Class of 2019
As the current co-chair of the Pharmaceutical Sciences pathway, Fran Aweeka, PharmD maintains a crucial role as both a teacher and a research mentor to pharmacy students at UCSF. She began her career in the sciences with an undergraduate degree in biology before obtaining her PharmD at UCSF, where she developed a passion for the clinical setting and infectious diseases. Ardent about continuing to pursue academic endeavors, she moved on to complete a primary practice residency, and a pharmacology fellowship. During her training, she was able to apply her knowledge in infectious disease to a clinical setting during the time the devastating epidemic of HIV and AIDS swept the world.
Dr. Aweeka continues her clinical care and research in HIV and other infectious diseases as the Director of the Drug Research Unit, where she researches HIV, malaria, and tuberculosis. She currently works with a multidisciplinary team of scientists to study and provide treatment for underserved populations in Uganda and to develop more optimal malaria and anti-retroviral treatments for women and children.
Dr. Aweeka's multifaceted interests and experiences in biomedical sciences, epidemiology and population sciences, and clinical sciences—as well as her sustained dedication towards mentorship—allow her to provide great insight into the new Bridges Pharmacy curriculum.
What led to your path in pharmacy as a clinical scientist focused on conducting research?
One of the first things that I was really interested in doing as a student back in the early 1980s was to be able to apply what I was learning to some area of need within the international arena. During my first summer as a pharmacy student, I went to work in Poland for the International Pharmaceutical Students Association, at the time when Poland remained closed off to much of the West. It was very important for me to know that those kinds of opportunities were available for those of us pursing pharmacy. When I continued with the PharmD program, and hit the floors with clinical rotations, I was hooked. I loved the fact that pharmacists could have such an impact on the decision process for helping optimize the way drugs are used in patients.
What followed was my time as a clinical pharmacist on the kidney transplant service. Over a relatively short period of time I focused also on drugs in patients with kidney disease. It was relevant to HIV, because at the time HIV had drugs for the virus, but there were also drugs to treat the complications of HIV such as cytomegalovirus. I found the clinical setting fascinating, because I was able to take those years of study and have an impact on how patients were managed. I really enjoyed being part of a clinical team. To this day I always think of what's clinically relevant in the research I do because the clinical experience I gained as a resident was so impactful.
The transition from clinical work to research scientist was challenging. I began my fellowship when the world of HIV care was opening up. It was an opportunity to do research with new classes of novel drugs. That is where I developed my interest in asking focused scientific questions that would improve how drugs are used in patients. The scientific rigor of doing research appealed to me, and it evolved from there. The thing that was so great about it all is that I was constantly learning. I was always learning and it was my job to learn.
What are the current frontiers in your work?
My early work on HIV drugs, and drugs relevant to the HIV population, introduced me to the AIDS Clinical Trials Group, a multi-center group that focuses on optimizing care for HIV patients. It's been around since the rise of HIV/AIDS in the mid-1980s, and is something I'm still involved with now. The program's evolution over the past few decades has included my involvement in looking at co-infections relevant to HIV in the global setting. It also brought me into the world of malaria, which I found to be absolutely fascinating. I've been able to develop a new malaria pharmacology component to the program. It has been a rewarding experience not only for myself and my crew, but also for many students here at UCSF who have taken the opportunity to work with our team and travel to Uganda for their projects.
What does the integration of the six UCSF Domains of Science mean to you?
Integration of the Domains of Science to me is the foundation of translational work, which many of us clinicians strive to fit into. The most competitive research and the most productive research tends to be translational nowadays. That's because the best research is done as a team.
Whether I'm working in HIV or working in malaria or sort of the bridge between the two, our programs here at UCSF have evolved so that we bring in basic scientists and we bring in translational scientists. We don't just limit ourselves to giving patients drugs and seeing what happens. We want to understand the reasons behind why a drug does what it does or even think about novel ways to treat patients, which is often times informed by our work that's being done on a more basic level.
I believe team science is the best way to move forward. Nobody can work in a vacuum; they all need to think in terms of bringing multidisciplinary expertise to the table to make their science the best it can be.
Why is Inquiry in the Domains of Science important for training the next generation of pharmacists?
Training in the Domains of Science is a way to stimulate students and inspire them to think about research in new ways. Inquiry allows students to be able understand how all the research here at UCSF has a common goal. Everyone here who does biomedical research, whether it be based in basic, clinical, populations, systems, or educational sciences, has an overarching goal to optimize the way patients are treated.
With this, all of our students should be thinking up new ideas. We want the Frontiers curriculum in Bridges Pharmacy to be able to stimulate and inspire. We want our students to come up with ideas for research that others have just not thought about and we want them inspired to join some of the strong research programs here at UCSF. We don't want to spoon-feed information so that our graduates have trouble differentiating themselves. We want our students to figure out what their passion is in the context of the PharmD training, and then focus on developing a path that is driven by their interest.
What advice do you have for students who are unsure of how they fit into the Domains of Science?
I found that when I was in pharmacy school one of my main goals was to always have the opportunity to learn. I definitely wanted to have an impact on patient care as I loved my clinical rotations. But I also wanted to stay in academics so that I could learn and pursue scientific interests with some sort of flexibility. I loved science and I found myself fascinated by infectious diseases and was drawn to international health. I developed a focus in ID, but for me the main goal was to stay in an academic environment and see what happened. I would have never guessed that I would have studied drugs in kidney disease, or that I would have actually ended up in HIV, or that I would have ended up in malaria. It was not part of my plan at all, but what was part of my plan was to stay in an environment where the opportunities would continue to be countless.
As a pharmacy student, that's exactly the kind of environment you find yourself in. Talking to faculty or other people who have jobs you might be interested in having is really important. You want to enjoy your time here and recognize that you're at a world-class institution where there are some incredible faculty and incredible opportunities to be exposed to some really interesting things. Take full advantage by going to seminars, and taking a class that may not be exactly in line with your career goals but you never know who you might meet or what you might be inspired to do. Take the learning process for what it is, and don't feel like you need to decide your future from day one because you don't know what kind of new opportunities are going to be out there in four years. What you do with your doctoral degree is completely up to you. There's no limit; I'm a firm believer of that.
Clinical Microsystems Clerkships:
Pharmacy Students Learn by Doing
By Michelle King, School of Pharmacy Dean's Office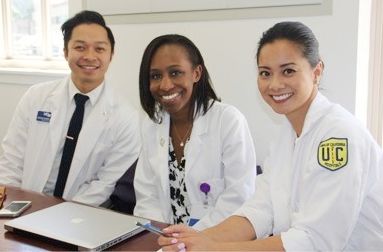 The Clinical Microsystems Clerkship (CMC) is a School of Pharmacy experiential education pilot that was implemented in January 2016 and continuing through June 2016. Developed by the UCSF School of Medicine as a systems-based early immersion clerkship, the CMC offers an immersive, team-based learning experience where first year students are placed into interprofessional practice settings with a focus on systems science. Students spend two shifts during an assigned week at various practice sites, developing skills in system-based practice and direct patient care. The first-year students participating in the pilot are assigned a specific microsystem for six months to focus on an actual healthcare setting, and on a team to contribute authentically to patient care.
In the CMC pilot, pharmacy and medical students are paired. In this case, Christen Dillard, a first-year medical student, and George Dimacali, a first year student pharmacist, delve into patient care and devise a treatment plan for patients who have asked for help in medication clarification or advice, some with complicated cases. Professor Marilyn Stebbins, PharmD, and Judie Tran, PharmD, serve as preceptors, and keenly advise the students on how to best help their patients as they write up their responses to their patients' questions. Dr. Tran guides Dillard and Dimacali to problem solve, asking about the drugs' indications, the normal dosing, the common side effects, and counseling points. Follow up calls with patients establish connections and trust, while the student learns real-life medication usage and concerns.
CMC patient care settings mirror the classroom, and by placing students in practice settings early on in their education, it strengthens their experiential learning.
In this introductory pharmacy practice experience, the students learn, practice and demonstrate solid team-based practice skills to improve healthcare. Their preceptors foster their success in becoming valuable medication managers and important advisors in a patient's health care. This team-based learning experience strengthens and contributes to improved systems and patient care in diverse practice settings. 
Bridges Pharmacy Updates
Congratulations Class of 2016!
The School of Pharmacy PharmD graduation was May 5, 2016 at the Davies Symphony Hall in San Francisco. Read more.
In the News
The University of Washington School of Pharmacy hosted a Curricular Innovation Panel Discussion, including a panel featuring Tina Brock, MS, EdD. On the panel she provided insights on the curriculum design and development process.
Contact Us
Contact us at [email protected] or on the Bridges Pharmacy website if you have questions or are interested in getting involved in Bridges Pharmacy.
 
---
Curriculum project name change: As we began transforming our PharmD curriculum, we referred to our work as the UCSF Bridges Pharmacy Curriculum Project. We now refer to our work as the UCSF PharmD Curriculum Transformation Project: 2018 and beyond.