Campus Alignment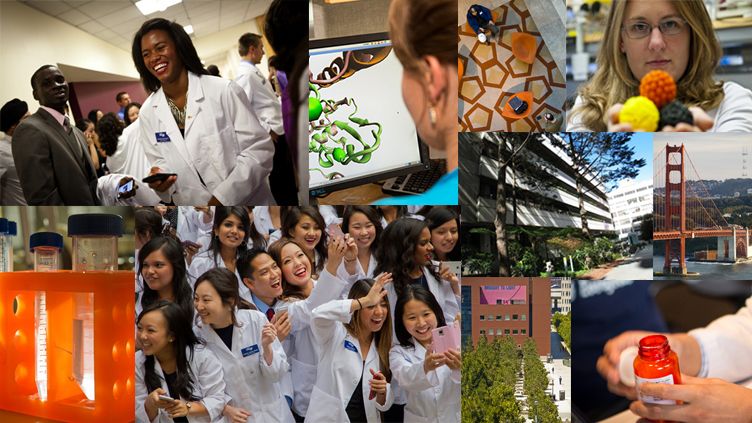 On a typical day, approximately 3,000 graduate-level students, 1,500 residents, and 1,000 postdoctoral scholars are learning at UCSF.
They are diverse—from all walks of life, beliefs, orientations, and homelands. What they share is a commitment to healing and scientific discovery.
These students, who will become health care providers and scientists, are learning within a collaborative, solutions-directed, UCSF-wide culture of education that strives to integrate knowledge across curricula.
There is too much information about science and health, increasing by the minute, to support yesterday's model of learning subject by subject in isolation. The key is to quickly identify connections, think critically, problem solve, learn continually, work across disciplines, and remain nimble—as the velocity of new health sciences information increases at astounding rates.
This agile approach to education is core to curriculum change among the professional degree programs offered by the UCSF schools of dentistry, medicine, nursing, and pharmacy, the doctor of physical therapy program, and UCSF's master's and doctoral science programs.
UCSF is driven by the shared idea that when the best teaching, the best research, and the best patient care converge, we can deliver breakthroughs that help heal the world. This idea permeates UCSF curricula and also plays out here on the only UC campus focused solely on the health sciences—the campus that includes UCSF Medical Center, which serves patients worldwide, and the Bay Area health care system, UCSF Health.
Within this atmosphere, it is not surprising that a key part of the UCSF School of Pharmacy mission is to deliver a unique education to our students—enabling them to think critically, lead confidently, and work seamlessly across professions and fields.
The School's doctor of pharmacy (PharmD) curriculum for 2018 and beyond is being created to take full advantage of UCSF's shared culture of interprofessional education and its uniqueness within the UC system, and to align ever more closely with education programs across UCSF, with the School's education mission always top of mind.
---
Image credits: White Coat hallway, student w/computer, medications: Elisabeth Fall; lobby, test tubes, Mission Bay, student w/models; © Majed; Parnassus: Frank Farm; bridge: Sara Kling; ceremony: Susan Merrell