Bridge Funding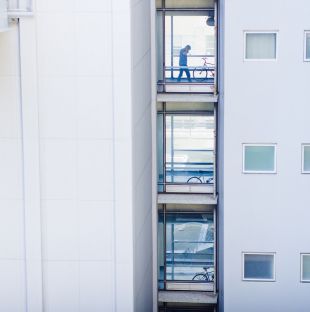 About bridge funding
The UCSF School of Pharmacy invites eligible School faculty members to apply for research bridge funding, which provides temporary (up to 12 months) and partial support during a faculty member's continuing efforts to obtain full extramural funding.
Support is made available from funds pooled equally from the School of Pharmacy Dean's Office, the awardee's home department, and the Office of the Chancellor.
All past School of Pharmacy recipients of bridge funding have leveraged those funds for subsequent research support from other sources.
Award amount
Up to $100,000 for a single award, for up to one year
Up to $200,000 total awarded per year
Award cycles
Funding is awarded twice each academic year, during fall and spring rounds.
Fall 2021: Call for applications
| | |
| --- | --- |
| Opens | October 15, 2021 |
| Closes | December 15, 2021 |
| Decisions announced | January 15, 2022 |
Completed: Spring 2021
| | |
| --- | --- |
| Opens | April 1, 2021 |
| Closes | May 31, 2021 |
| Decisions announced | June 15, 2021 |
Eligibility and process
Reapplication restrictions
Investigators who have previously received bridge funding awards are not eligible to reapply for bridge funding until their award period ends. There must be a six-month gap between award periods.
Initial evaluation
Applications are first evaluated by School of Pharmacy leadership, who seek to identify and support faculty members who are likely to be funded from extramural sources upon submission of amended applications (based on scores and comments in previous reviews).
UCSF full-time faculty in two categories are eligible for bridge funding:

An established investigator (greater than eight years on faculty) who has lost significant funding such that there will be a deleterious effect on the research program (e.g. loss of research personnel or research participants) in the absence of bridge funding; investigator must have had continuous extramural funding from peer‐reviewed sources during the prior four years.
A new investigator (less than or equal to eight years on faculty, must be post NIH Career Development Award) with two or more rounds of well‐scored but unfunded applications for external funding and/or within one year of exhausting startup funds.

Investigator must have made a conscientious effort to re‐establish funding and have the support of the department chair; priority will be given to those with percentile scores that would likely have been awarded funds during times of more plentiful resources.
Nomination by chair
Each School of Pharmacy department chair may nominate up to two applicants (from their department pool of completed and submitted applications) to the dean for consideration.
Review and recommendation
The dean charges all three department chairs and the associate dean of research with reviewing all School of Pharmacy nominations and recommending applications to go forward to University leadership for final consideration.
Final consideration and decision
The UCSF executive vice chancellor and provost (EVCP) and the senior vice chancellor of finance and administration (SVC) will make the final bridge funding decisions.
Budget restrictions
Award funding may be used for:

Faculty salary
Supplies/project expenses
Animal care or core facility services
Salaries/benefits for research personnel
Research participant accrual or maintenance

Award funding may not be used for:

Travel
Budget overdrafts
Administrative costs (such as school and department surcharges)
Application packet submission requirements
Using the required templates and samples (see download link below), please submit all completed application packet items and documentation/attachments directly to your department chair via email, by December 15, 2021.
Application packet items
Bridge funding applicant cover sheet and required attachments

All investigators: Attach the summary statement of award or application to be bridged.
New investigators: Attach reviews for at least one well-scored but unfunded application for extramural funding.

Bridge funding Applicant Statement
Bridge funding Budget
UCSF Biographical Sketch

On the biosketch, please insert the following note under "Section D, Research Support": "*This is an award to be bridged."
Application deadline
The completed application packet, with all documentation and attachments, must be received by your department chair by December 15, 2021.
Questions?
If you have questions about your application, please email your department chair directly.