Basics
Our Drupal websites
| The domain at… | Is the website for the… |
| --- | --- |
| pharmacy.ucsf.edu | School of Pharmacy. It is also the source of content that is syndicated to our other websites. |
| pharmchem.ucsf.edu | Department of Pharmaceutical Chemistry |
| bts.ucsf.edu | Department of Bioengineering and Therapeutic Sciences |
| clinicalpharmacy.ucsf.edu | Department of Clinical Pharmacy |
| pharmd.ucsf.edu | PharmD (Doctor of Pharmacy) degree program |
| pharm.ucsf.edu | various labs, projects, and centers of the School of Pharmacy |
| qbc.ucsf.edu | Quantitative Biosciences Consortium (QBC): an umbrella site for graduate programs administered by the School of Pharmacy |
| ipqb.ucsf.edu | Integrative Program in Quantitative Biology (iPQB): a PhD degree umbrella program |
| ccb.ucsf.edu | PhD degree program in Chemistry and Chemical Biology (CCB) |
| bmi.ucsf.edu | PhD degree program in Biological and Medical Informatics (BMI) |
| pspg.ucsf.edu | PhD degree program in Pharmaceutical Sciences and Pharmacogenomics (PSPG) |
| bioinformatics.ucsf.edu | PhD degree program pathway in Bioinformatics (BI) |
| biophysics.ucsf.edu | PhD degree program in Biophysics (BP) |
In addition to these, the school hosts or manages many other sites.
---
Browser compatibility
We attempt to provide an adequate visitor experience in all browsers. Editors should use only Google Chrome and Mozilla Firefox.
Logging in

To log in to any of the above sites:
Select the "Log in" link at the bottom of the page.
Enter your UCSF MyAccess credentials.
If you have not been granted any permissions on that site, the only change you will see is that "Log in" is now "Log out."
Making changes
If you are logged in and your role is allowed to edit content, you will see a "New Draft", "Edit Draft", or "Edit" tab near the top of the page. Click that to edit the content.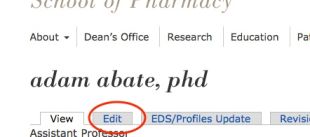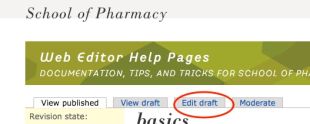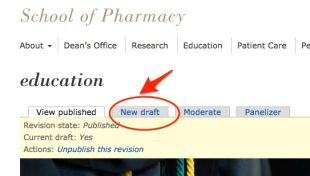 Syndicated content
Syndicated content types such as News, UCSF Person, Events, and Media Coverage are always entered on pharmacy.ucsf.edu and then sent via the Drupal system to the three department sites and PharmD.
Revisions and drafts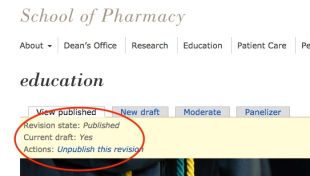 "Basic Page", News, and Event content types all use a 'draft' publishing feature that allow you to make an edit, or multiple edits before making changes "live".
These pages will show a yellow status box near the top of the screen when logged in, and show "View/Edit/New Draft" options in lieu of just "View" and "Edit".
In some cases, a user may create/edit a draft, but is required to request publishing from an administrator. Otherwise the draft can be set to "Published" status when ready.
Content without this functionality (no yellow box, view/edit only) will be immediately published upon saving!
Saving
On most editing pages and pop-ups, the "Save" button is at the bottom of the page.
Lag and caching
Syndicated content can take up to one hour before appearing on destination sites.
Logged-out viewing is heavily cached on the server. You may see an old version of a page for up to one hour after editing and publishing.
Sometimes browser cache can also delay your seeing changes.
Don't freak out! Give it an hour, then freak out.
Finding content items

Published content can be easily located by URL, menu items, or by using the built-in site search.
The toolbar item called My Workbench enables you to view:

published content
unpublished content
a list of recent content you have edited.
More info
---
Getting help
File a ticket at our Website Support form.