Inserting Tables
To insert a new table
Place your cursor on a new line where you'd like the table to appear.
Select the table button.
Complete the table properties dialog then select OK.
To alter an existing table
Right-click the table to alter table properties or to add or remove rows or columns.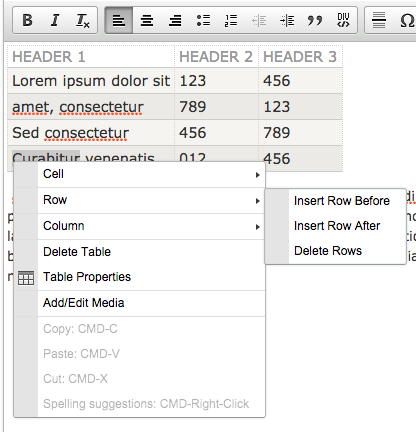 Table styles
Table styles enable you to control a table's appearance. Specify one or more table style class names (separated by space characters) in the Stylesheet Classes field on the advanced table properties dialog.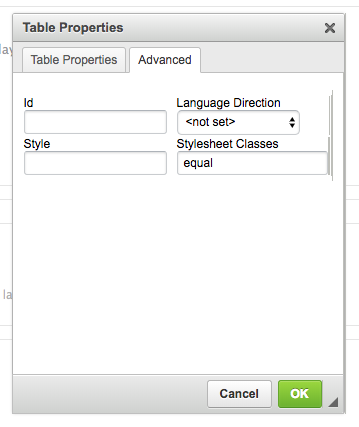 | Class name | Description | Examples |
| --- | --- | --- |
| block | use this to force all links within the table to be block-level elements that take up the full width of their column | |
| c1-7pc | specifies that the first column is 7% of the width of the table | |
| c1-12pc | specifies that the first column is 12% of the width of the table |   |
| c1-25pc | specifies that the first column is 25% of the width of the table | |
| c1-45pc | specifies that the first column is 45% of the width of the table | |
| c2-10pc | specifies that the second column is 10% of the width of the table | |
| c2-25pc | specifies that the second column is 25% of the width of the table | |
| c3-45pc | specifies that the third column is 45% of the width of the table | |
| collapse | makes certain tables more legible at small browser widths | |
| contact | used for tables showing headshots in column 1 and text in one or more columns following | |
| equal | makes all columns equal width | |
| hide-row-lines | removes the light gray horizontal lines between table rows | |
| hhmmampm | good for times like 8:00 am in the first column | |
| mmmdd | good for dates like Jan 26 in the first column | |
| not-100pc-wide | when you don't want the table to take the full width of its column | |
| people | used for tables showing headshots in column 1 and text in one or more columns following | |
| people2018 | used for tables showing headshots in the last column and text in preceding columns | |
| tight | reduces table padding for tables that are otherwise too tight to fit with normal padding | Facts and Figures |