Research & Projects
Jump down to:
Overview
African American and Latino children experience an excess of asthma morbidity. Why?
Asthma prevalence in Puerto Rican and African American children is about double that of European American children: 18.4%, 14.6%, and 8.2%, respectively. Although Mexican American children have a low prevalence of asthma (4.8%) and better lung function, they, along with Puerto Ricans and African Americans, experience an excess of asthma-related symptoms, missed school days, and unplanned health care visits. Variations in asthma prevalence and morbidity among subpopulations suggest it is a heterogeneous disease with varied risk profiles. We must further evaluate these risks and the mechanisms by which they act in order to develop individualized, targeted therapies to improve asthma-related outcomes.
We examine how the interaction among social, environmental, and genetic factors affect asthma outcomes in different populations. Evidence of a gene-environment interaction can be observed when the combined effect of genetic and environmental exposures increases asthma risk beyond what would be expected based on the individual exposures. Our group's work will improve accuracy and precision in the assessment of genetic, social, and environmental influences of this common disease.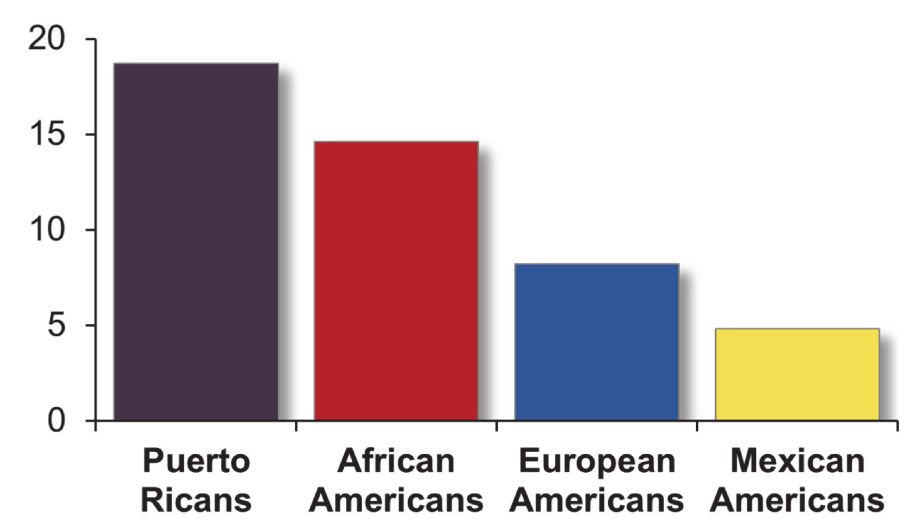 Genetic research projects
Genetic research projects focus on identifying genetic risk factors and developing novel therapeutics targets for asthma.
Genome-wide association studies (GWAS) and admixture mapping scans of asthma, related traits, and drug response
Moving Beyond GWAS: whole genome sequencing studies and functional analyses
Influence of genetic ancestry in asthma susceptibility and lung function among African Americans and Latinos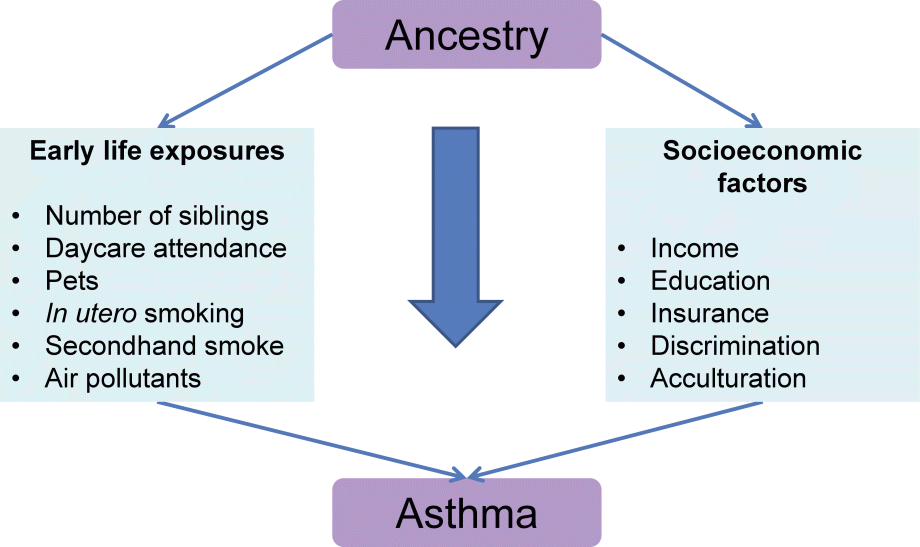 Social research projects
Social research projects examine the effects of social stressors to better understand how they influence disease and to identify which of these stressors can be changed to improve health.
Social adversities: the effects of socioeconomic status and discrimination on asthma risk and severity
Allostatic load: the effects of social stressors on disease risk and severity
Acculturation: the effects of acculturation on disease risk and severity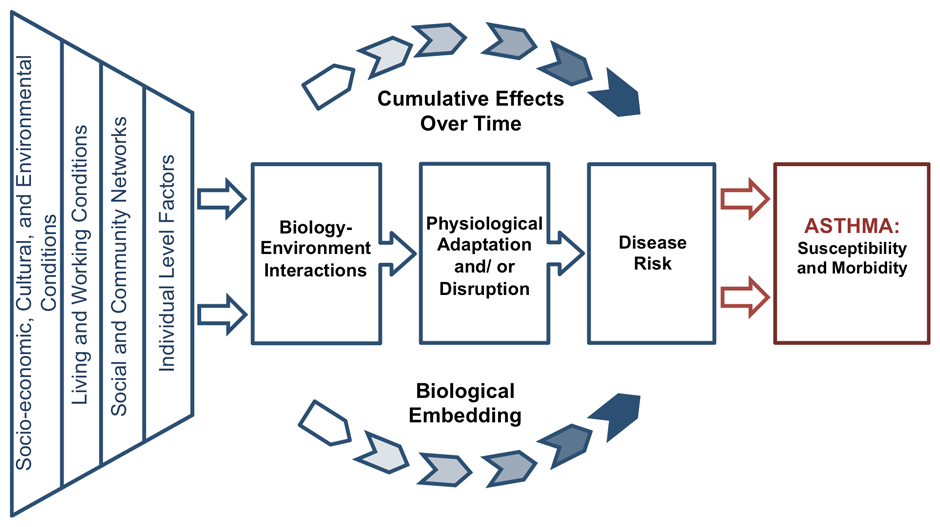 Environmental research projects
Environmental research projects identify populations at increased risk for asthma and find potential targets for public health interventions.
Collaboration
Collaboration is a natural and necessary component of our research.
American Asthma Foundation (AAF)
In the era of large "team science," the value and importance of collaboration cannot be overstated. We have made existing cohorts available to more than 27 American Asthma Foundation-sponsored investigators. The Asthma Genetics Core assists investigators with study design and provides genotyping and expertise with statistical genetic analyses.
Asthma Biobank-centered partnerships
The Asthma Biobank has facilitated research on asthma in minority populations by scores of laboratories around the world, including multiple Sandler Asthma Basic Research Center (SABRE)- and AAF-funded investigators, and by national and international consortia. Data obtained from the Asthma Biobank have allowed us to build multiple national and international collaborations. Since the Biobank received funding in 2008, we have collaborated with 67 individual investigators, and with two national and six international consortia. We also allow our databank to be used for replication of promising results from other investigative groups.
Other collaborations
In 2013, we collaborated with the following faculty members from UCSF and elsewhere: Ryan Hernandez (UCSF), Carol Ober (Chicago), Kathleen Barnes (John's Hopkins), Evan Eichler (University of Washington), Jim Gauderman (USC), Charles Rotimi (NIH/NHGRI), Noah Zaitlen (UCSF), Mario Castro (Washington University), L. Keoki Williams (Henry Ford), Fernando Martinez (University of Arizona), Max Seibold (National Jewish), Neil Trivedi (UCSF), Rajesh Kumar (Children's Memorial Hospital, Chicago), Pedro Avila (Northwestern University), Stephanie London (NIEHS), Scott Weiss (Harvard), and Kathy Giacomini (UCSF). We have contributed our data to national and international consortia to study asthma, obesity, and eczema.
In 2013, we also participated in the EVE Asthma Consortium (sponsored by the National Heart, Lung and Blood Institute [NHLBI]) and several other national and international collaborations.
We also collaborate with The Center for Health And Risk in Minority Youth and Adults (CHARM), a comprehensive center of excellence for addressing disparities and chronic disease prevention in minority youth and young adults. CHARM is funded by the National Institutes of Health National Institute on Minority Health and Health Disparities.