2021 CERSI Innovations in Regulatory Science Summit
Date:
Sunday, January 10, 2021 -

8:00 am

to

3:00 pm
Location:
Virtual Meeting - Times Shown are Pacific Time
Overview
The UCSF-Stanford Center of Excellence in Regulatory Science and Innovation (UCSF-Stanford CERSI) is pleased to present the second Innovations in Regulatory Science Summit, a gathering of leaders in the academia, industry and regulatory sectors to discuss the role of regulatory science in medical product development. This event will take place before the 2021 J.P. Morgan Healthcare Conference, and will comprise primarily of panel discussions and short science talks.
Panel Topics
Oncology
Infectious Disease
Pandemic Preparedness
Effects of COVID-19 on Medical Product Development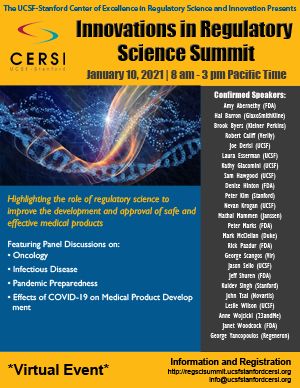 Download Poster
Registration
Registration is required, but free for all attendees.
Confirmed Speakers
Amy Abernethy (FDA)
Hal Barron (GlaxoSmithKline)
Diana Brenner (Gilead)
Brook Byers (Kleiner Perkins)
Robert Califf (Verily)
Jennifer Cochran (Stanford)
Joe Derisi (UCSF)
Martha Donoghue (FDA)
Laura Esserman (UCSF)
Kathy Giacomini (UCSF)
Sam Hawgood (UCSF)
Denise Hinton (FDA)
Peter Kim (Stanford)
Nevan Krogan (UCSF)
Mathai Mammen (Janssen)
Peter Marks (FDA)
Mark McClellan (Duke)
Andy Plump (Takeda)
George Scangos (Vir)
Jason Sello (UCSF)
Jeff Shuren (FDA)
Kuldev Singh (Stanford)
John Tsai (Novartis)
Leslie Wilson (UCSF)
Anne Wojcicki (23andMe)
Janet Woodcock (FDA)
George Yancopoulos (Regeneron)
Agenda
The agenda will be posted here shortly.
Contact
Please contact [email protected] with any questions.