The Course
The American Course on Drug Development and Regulatory Sciences (ACDRS) is a nonprofit educational course that enables you to understand how to incorporate the latest innovative biopharmaceutical development strategies, methodologies, and tools.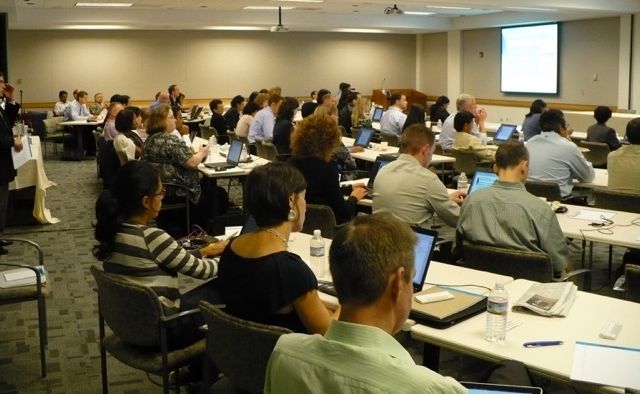 The course emphasizes integrated product development that is science-based, efficient, economical, high quality, and rapid, leading to better and safer medical products for patients.
Enrollment will open soon for 2021 ACDRS (Cycle 13) in Washington, DC. Contact [email protected] to receive email updates. 
Jump below to
Who should attend?
This course is for:
the biopharmaceutical industry and its service industries
academic and government scientists and
decision-makers and policy-makers
who have a good grounding in drug development basics and can benefit from a more in-depth, comprehensive, and systematic immersion in modern medical product development, regulation, and market introduction.
The course specifically targets the following professionals:
Drug discovery and non-clinical development team leaders

Drug discovery and translational scientists from academia and industry

Drug and medical device product and clinical development team leaders and members

Clinical pharmacology and development team leaders

Clinical scientists

Therapeutic area and technology platform managers

Regulatory scientists from industry, academia and government

Portfolio, program, and project managers and team leaders

Knowledge transfer, partnering, licensing and legal experts

Heads of research and/or product development and business executives

Investors from venture funds and financial institutions
Why participate?
ACDRS provides a detailed examination and comprehensive review of drug development with emphasis on state-of-the-art techniques and tools to enhance the efficiency and effectiveness of drug development. Course content:

Meets today's training gap in medical product discovery and development.
Aims to advance integrated product development that is science-based, efficient, high quality, and rapid.
Emphasizes requirements and best practices for the rational and rapid development of new products for the global marketplace.
Incorporates online e-learning.

ACDRS participants leverage their current expertise. They are all:

In the biopharmaceutical and service industries, academic and government scientists and decision- and policy-makers who already have a good grounding in the basics.
Looking for a rigorous, in-depth, comprehensive, and systematic immersion into modern medical product development, regulation, and market introduction.

ACDRS builds knowledge and new networks. Participants:

Integrate workplace goals with the education needed to better accomplish those goals.
Gain in-depth knowledge on timely topics important to the successful development of medical products into the future.
Actively engage in lectures, workshops, panel discussions, and team-oriented case studies.
Build an international network of colleagues.

ACDRS content is comprehensive and interconnected. Program content includes:

Discovery and development of new medicines
Biopharmaceutical sciences
Clinical pharmacology and trial methodology
Good clinical practice and ethics
Pharmacovigilance and epidemiology
Biostatistics
Regulatory affairs
Health economics
Project management
Marketing and new therapeutic approaches

ACDRS faculty members are recognized international experts. Their backgrounds include:

Regulatory sciences
Medical product discovery and development
Product evaluation and business practices from United States and European universities, pharmaceutical, biotechnology, and device companies and regulatory authorities (including the FDA, EMA, MHRA, PMDA, and other regulatory agencies)
Learning objectives
You will be able to understand how to incorporate the latest innovative biopharmaceutical development strategies, methodologies, and tools to:
Be prepared for future developments and changes of the global pharmaceutical, health economics, and business environments, as it impacts product selection, product development, regulatory, and business evaluations.
Design, evaluate, and manage integrated product development programs and the resulting pharmaceutical R&D portfolio.
Devise timely Go/No Go decision-making criteria and procedures based upon critical analyses of non-clinical and clinical data sets leading to improved success rates for new drug candidates and devices.
Incorporate into milestone decisions, including early-on, the potential commercial value of development candidates/products and their return on investment.
Address real-world challenges encountered during the development, manufacturing, review, and commercialization of FDA-regulated medical products.
Prepare and critique an integrated product development plan.
Optimize and critique clinical and non-clinical protocols.
Incorporate integrated product safety management programs.
Incorporate present and future regulatory policies, guidances, and opportunities into FDA meetings with sponsors and NDA reviews.
Effectively understand and network a given corporation's structure and functions.
Understanding the legal basis of regulatory authorities and current developments.
Prepare for the next career step.
Participant testimonials
This has truly been the most useful and engaging training that I have ever attended. The content, presenters, and interaction with peers has been outstanding.
It is the one course that I have found personally to provide the greatest learning experience—and very much unparalleled.
The nice thing about the breakout sessions is the fact that you are working on solving problems or proposing a strategy with colleagues who come from across the map in drug development—preclinical, clinical, legal, FDA, small cap companies, or Big Pharma. Everyone comes together, and there are really no boundaries.
Details at a glance
When

For Cycle 13: March 2021 to December 2021 (session dates to be announced)

Where

The location can change from year to year. Previously:

2019-2020 Cycle 12: Washington DC

2018-2019 Cycle 11: Washington DC

2017-2018 Cycle 10: Washington DC

2016–2017 Cycle 9: Washington, DC

2015–2016 Cycle 8: Washington, DC

2014–2015 Cycle 7: Washington, DC

2013–2014 Cycle 6: San Francisco, CA

Schedule details available on each cycle's page.

Commitment

six sessions spanning 10–12 months

each in-person session is three days (virtual/online up to five days)

each in-person day is eight hours (virtually/online is four hours)

14 case studies

one certificate course examination

includes "team" involvement in mentored, case-oriented workshops

includes e-learning

eight hours per session is spent preparing for the case study workshops

Audience

Professionals involved in the medical product development process

Eligibility

You must:

have a higher university degree, such as MD, PharmD, PhD, Master's, or JD.

have a primary interest in medical product discovery, development, regulation, or related activity.

have at least one year of work experience in medical product development.

be qualified via standards and nominations by submitting a one-page curriculum vitae to [email protected] prior to or immediately following registration.

Registration fee

$13,500 before or on the early registration deadline

$15,000 after the early registration deadline

A discounted fee for a limited number of participants from academia and government is available. Please contact [email protected].

Administrative details

Enrollment is limited; we encourage you to register well in advance.

If you cancel before the cancellation deadline specified on the cycle details page, the fee less $900.00 for administrative expenses will be returned. There will be no substitute registrants or refund on cancellations made after the cancellation date.

Should a course session be postponed due to events beyond our control, your tuition will be applied to a rescheduled session.

Certification

A certificate is awarded upon completion of the course.
How to attend