Certificate Programs
Research Certification Program
Purpose
The UCSF Research Certificate Program is a longitudinal research training program that provides formalized growth opportunities to strengthen clinical research abilities and develop skills necessary to understand the principles of research design, statistical analysis, and project development.
Program Goals
Develop effective project and time management skills

Acquire skills for designing and interpreting clinical research

Provide resident and preceptor development opportunities
Produce publishable resident research projects
Program Requirements
Designing Clinical Research Course
Attend lectures and small-group sessions within an interprofessional curriculum
Develop an IRB-approved research protocol
Resident Research Series
Attend one-hour seminars pertaining to IRB Submissions, REDCap, methodologies and abstracts, poster development, STATA and Data Analysis, building tables and graphs, presentation skills, and manuscript writing
Manuscript
Prepare a manuscript suitable for publication
Research Days
Nine dedicated research days allocated throughout the residency year
Research Portfolio
Develop and maintain a research project plan, portfolio, and evaluation strategy
Mentorship
Residents are paired with clinical pharmacists with advanced training in statistical analysis
"The research certificate program provides a comprehensive review of research methodology and statistics to help guide our PGY1 research endeavors. The research series coincides with our projects and provides residents with insight and support to successfully complete tasks, such as IRB and abstract submission, poster design, and data analysis. The mentors assigned through the certificate program are extremely knowledgeable and invested in our learning. In addition, the Designing Clinical Research course was extremely beneficial in strengthening our baseline knowledge of research design and methodology. The interprofessional course also offers the benefit of different perspectives (public health, medical resident vs pharmacy resident) to strengthen the design of our projects." - Kayla Joyal, PharmD (PGY1 Pharmacy Resident 2018-2019)
Teaching Certificate Program

Purpose
The UCSF Teaching Certificate Program is jointly sponsored by UCSF Medical Center and UCSF School of Pharmacy. The program is designed to support the development of residents in the design and conduct of small group teaching, large group teaching, and experiential education.
Program Goals
Provide effective medication and practice-related education to patients, caregivers, healthcare professionals, students, and the public
Effectively employ preceptor roles when teaching students
Develop and practice a philosophy of teaching
Program Requirements
Teaching Workshops
Attend interactive seminars focused on building clinical teaching skills, positive learning climates, teaching philosophies, and more
Large Group Teaching
Develop and deliver a large-group session to student pharmacists
Provide a one-hour continuing pharmacist education (CPE) session
Small Group Teaching
Facilitate weekly small-group learning of therapeutic concepts for 10 weeks
Provide health education to the public through community outreach events
Provide health education to interprofessional healthcare providers
Interactive Teaching
Participate in oral exams associated with therapeutics courses
Conduct an Objective Structured Clinical Examination (OSCE) associated with applied patient care skills courses
Experiential Education
Co-precept IPPE and APPE students on clinical services
Teaching Portfolio
Develop and maintain a teaching portfolio, teaching philosophy, and evaluation strategy
Teaching Workshops 
Academic Assessment 
Case Writing 
Clinical Teaching Skills and Effective Feedback
Learning Climate
Setting Goals and Expectations 
Teaching Philosophy
"The teaching certificate program enhances our teaching and precepting skills, through individualized teaching philosophy and portfolio development. The interactive workshops prepare us to deliver didactic lectures, facilitate small-group learning, and teach within a layered learning model; all while inspiring us to adapt our teaching styles to the needs of our learners and strengthening our appreciation for diversity of thought." - Navya Varshney, PharmD (PGY1 Pharmacy Resident 2018-2019)

Teaching Certificate Directors
Mandy Morris, PharmD, BCPS, BCCCP

PGY1 Residency Program Director

Critical Care Pharmacist, UCSF Medical Center

Assistant Clinical Professor, UCSF School of Pharmacy

533 Parnassus Avenue, Box 0622

San Francisco, California 94143

Office: 415-353-8162 | Pager: 415-443-5374

Katherine Gruenberg, PharmD, BCPS

Assistant Clinical Professor, UCSF School of Pharmacy

533 Parnassus Avenue, Suite U585

San Francisco, California 94143

Office: 415-514-9324 | Pager: 415-443-5322
Resident Wellness Program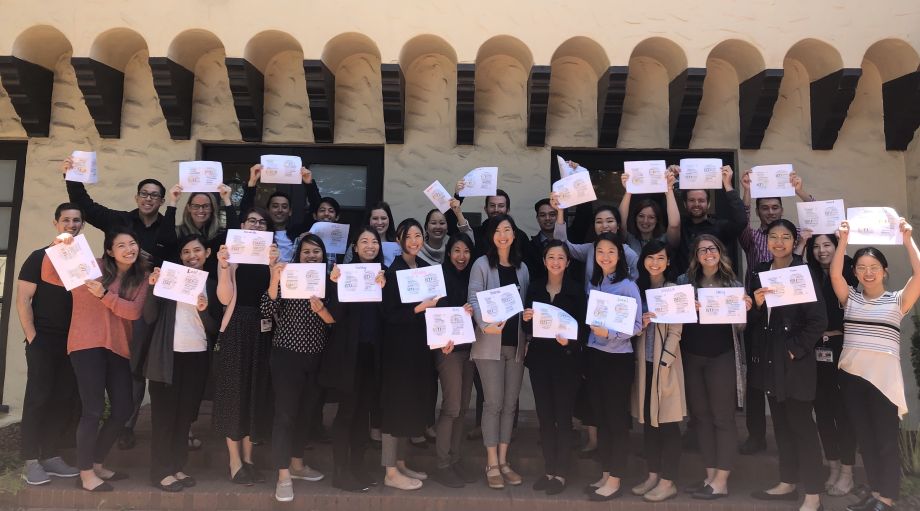 Purpose
The Resident Wellness Program is in cooperation with the 'Resiliency Medicine Training Course: Immunizing for Stress' and focuses on the pillars of resilience, self-management and community to promote the health, happiness and success of trainees and the prevention of burnout. 
Program Goals
Support pharmacy residents by providing strategies and techniques to become competent, caring and resilient clinicians

Promote proactive self-development and self-care behaviors for lifelong learning and performance improvement in both personal and professional lives

Obtain certification in Resiliency in Medicine, a nationally recognized evidence-based training program
Program Requirements 
Attend interactive focused seminars offered on a monthly basis

Practice introspection techniques through written reflections and discuss in a collaborative manner

Develop a "Personal Mission Statement"

Teach and model resiliency skills to demonstrate completion of the certificate program
Example Seminars​
Self-Management

Curriculum Vitae and Letter Writing Workshop
Emotional Intelligence
Myers Briggs Type Indicator
Strengths Finder
Time Management: Setting the Year Up for Success

Resilience

Imposter Syndrome
Resiliency in Medicine: Meditation, Gratitude, Internal Narrative

Community