PGY1 Pharmacy Residency
Welcome

Purpose
The Post Graduate Year 1 (PGY1) pharmacy residency builds on PharmD education and outcomes to contribute to the development of clinical pharmacists responsible for medication related care of patients with a wide range of conditions, and who are eligible for board certification and PGY2 residency training.
Description
The PGY1 Pharmacy is an American Society of Health-System Pharmacists (ASHP)-accredited residency program. PGY1 residents take on the role of clinical pharmacists and provide care to patients in a variety of patient care settings under the guidance of skilled preceptors. A major strength of the program is the large number of clinical faculty members and instructors with many years of experience in various clinical specialties (e.g. oncology, infectious disease, pediatrics, transplant, critical care) and in the areas of management, health outcomes, medication use policy and teaching. Residents grow exponentially in their clinical skills and gain experience in teaching, research, pharmacy operations, and medication use policy and evaluation. The program places an emphasis on the provision of pharmaceutical care in many patient care areas, research and teaching of pharmacy students and health care practitioners.
Learning experiences
Rotations
Rotation schedule
At a minimum, each resident will spend two thirds or more of their time involved in direct patient care activities. Rotation blocks are 5 to 6 weeks in duration, for a total of 8 blocks throughout the residency year. All residents will be assigned the 4 core blocks, and may select 4 elective learning experiences. For ambulatory care, residents may select up to 3 clinics for a 6 week block, with the option of an additional elective block of ambulatory care for a 12 week rotation.
The PGY1 Pharmacy resident in a pediatric environment will also be assigned the 4 core blocks, in addition to the required pediatric rotations including General Pediatrics, Pediatric Hematology/Oncology, and Pediatric ICU/Neonatal ICU. One elective learning experience may be selected for a total of 8 blocks.
Sequencing of learning experiences
Learning experiences are sequenced such that areas of possible PGY2 specialization occur prior to the ASHP Midyear Clinical Meeting. Sequencing and scheduled experiences are modified during the year based on changes in resident interest and customization based on interests and/or performance.
Sample schedule

PGY1 Pharmacy Program - Resident Schedule At-A-Glance.pdf
Core rotations
Ambulatory Care

General Medicine

Critical Care

Drug Policy
Ambulatory care clinics
Anticoagulation

Bariatric Surgery

Cardiology

Cystic Fibrosis

Depression

Heart Transplant

Hepatitis C

HIV

Medication Therapy Management

Primary Care

Transitions of Care
Electives
Ambulatory Care (additional block)
Cardiology
Emergency Medicine
General Pediatrics
General Surgery
Heart/Lung Transplant
Hematology/Oncology
Infectious Disease
Investigational Drugs Service
Kidney Transplant
Leadership & Management
Liver Transplant
Neurology
Neurosurgery
Orthosurgery
Pediatric Hematology/Oncology
Pediatric ICU/Neonatal ICU
Poison Control
Psychiatry
Staffing
Operational training
All residents receive comprehensive training in each of the operational areas during orientation, including formalized training in sterile compounding and aseptic technique. At the beginning of the residency year, residents are paired with an experienced preceptor who will oversee their operational staffing learning experience through the year and provide residents with summative feedback. Residents staff in conjunction with a clinical pharmacist until they are licensed at which point they will staff independently, typically starting in September.
Staffing blocks
Operational staffing occurs longitudinally and takes place approximately every third weekend spanning throughout the residency year for a total of 15 weekends. PGY1 Pharmacy residents staff in 3 areas – oversight of sterile compounding, serving as the Pharmacist-In-Charge (PIC), and clinical order verification. Additionally, residents staff a 4-hour evening shift every 2-3 weeks in the main pharmacy.
     Sterile Compounding     
     Pharmacist-In-Charge     
     Clinical Order Verification     
 

3 weekends

6 weekends

6 weekends
Clinical pathways
Residents are able to select a clinical pathway for the order verification portion of their staffing. Available pathways include surgery, solid organ transplant, or critical care, during which residents work closely with the clinical pharmacist to answer drug information questions and facilitate order approval. The PGY1 Pharmacy resident in a pediatric environment will complete the majority of their operational staffing at the UCSF Benioff Children's Hospital in similar roles.
Research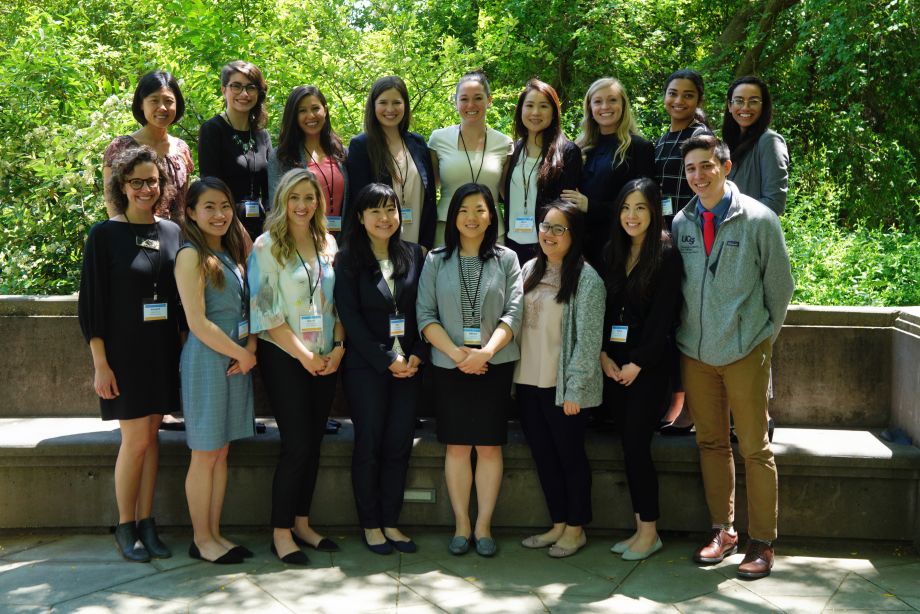 Project selection
The Research Advisory Committee receive project proposal submissions from clinical pharmacists and faculty for consideration as a resident research project on an annual basis. Projects are rigorously reviewed for feasibility, and appropriateness of timeline for the resident research process. The list developed in this forum focus on projects that demonstrate the value of clinical pharmacist services, and/or focus on quality improvement initiatives such as drug safety, optimal medication use, cost effective drug use, and efficient, safe and effective medication preparation, delivery and administration. The Principal Investigators of the vetted projects present their proposals to the PGY1 Pharmacy residents during orientation for consideration. Residents rank the research projects based on interest prior to selection and assignment by the Residency Program Director.
Research training
PGY1 residents participate in the UCSF Research Certificate Program and will gain skills in: adhering to a research timeline, creating an appropriate study design and methodology, completing data collection and analysis and summarizing research findings. Residents are enrolled in the Designing Clinical Research course. This interprofessional curriculum within the Department of Epidemiology & Biostatistics guides residents through modification of their research proposal and creation of a version suitable for submission to the UCSF Institutional Review Board. For projects requiring more advanced statistics, residents also receive support to work with the Clinical and Translational Science Institute (CTSI) in order to complete analysis.
Poster & platform presentations
All projects are of a scope suitable for publication. Projects are presented as posters at the UCSF Department of Clinical Pharmacy Spring Research Poster Session. They are also presented as posters at the University Hospital Consortium residency session that precedes the ASHP Midyear Clinical Meeting. The final presentation occurs in spring and is a platform presentation at the UC Collaborative Conference in California.
Resident research projects 
| | |
| --- | --- |
|  Katherine Baggett | Post-Implementation Assessment of the Withdrawal Evaluation of Analgesia for Neonates (WEAN) Protocol |
|  Claire Bainbridge | Impact of Albumin Dosing on Renal Impairment Post-Paracentesis in End Stage Liver Disease |
|  Elaine Chiang | Standard vs. Alternative UTI Prophylaxis and the Incidence of UTI in KTR |
|  TJ Gintjee | Evaluation of InsightRx Vancomycin Pharmacokinetic Models in Obesity |
|  Althea Han | Impact of Pharmacist in the UCSF Bariatric Surgery Clinic |
|  Kayla Joyal | Evaluation of Vancomycin Pharmacokinetics in End-Stage Liver Disease |
|  Edna Miao | Comparison of Voriconazole versus Posaconazole as Primary Antifungal Prophylaxis n Newly Diagnosed AML/MDS Patients |
|  Archita Pemmaraju | Evaluating Smoking as Predictor of Low Density Lipoprotein Cholesterol Response in Patients on Proprotein Convertase Subtilisin/Kexin Type 9 Inhibitor Treatment |
|  Amanda Roy | Impact of Surgical Prophylaxis Guideline Adherence on Outcomes Among General Surgery Patients |
|  Kay Takamura | Erenumab for Patients in Chronic and Episodic Migraines |
|  Navya Varshney | Quantifying the Work of Ambulatory Care Pharmacists at UCSF |
|  Ashley Wu | Evaluating Management of Uncomplicated SSTI in the Clinical Decision Unit (CDU) |
|  Felice Wu | Investigating Incidence of Infusion Reactions of Nivolumab during 60-minute and 30-minute Infusions (INFUSE) |
Teaching
Teaching instruction
Teaching is a focus of the residency at UCSF, and residents participate in the UCSF Teaching Certificate Program. The certificate recognizes the significant contributions and skills that are attained during the residency year. Residents receive training in teaching methodology, precepting and small group conference facilitation through a variety of educational seminars that are planned during the year.
Teaching experiences
Teaching opportunities may include the following:
Large group teaching
Interprofessional education
Small group facilitation
Precepting IPPE and APPE students on clinical rotations and project-based work
Code response
Overview
PGY1 Pharmacy residents are integral members of the interprofessional emergency response care team. All PGY1 Pharmacy will become certified in Advanced Cardiovascular Life Support (ACLS), and receive hands-on code training by the Critical Care Pharmacy team. Residents respond to Code Stroke, Code Sepsis and Code Blue to ensure appropriate drug selection and administration, timeliness of medication retrieval and preparation, adjusting medication dosages and monitoring for response.
Simulation
The UCSF Residency Training Program has developed and implemented a longitudinal simulation curriculum for PGY1 Pharmacy residents to increase confidence and competence during various emergent situations. The program utilizes the Kanbar Center for Simulation and Clinical Skills, a high-fidelity simulation center on the UCSF Medical Center campus. Throughout the residency year, residents participate in 4 simulation lab sessions, each covering 4 cases. The clinical case scenarios become increasingly complex as the residency year progresses, and is intended to meet the advancing skill set of the residents. A clinical pharmacist content experts are invited to the sessions to lead the residents through a debrief of the simulation session and allow for discussion of advanced clinical topics.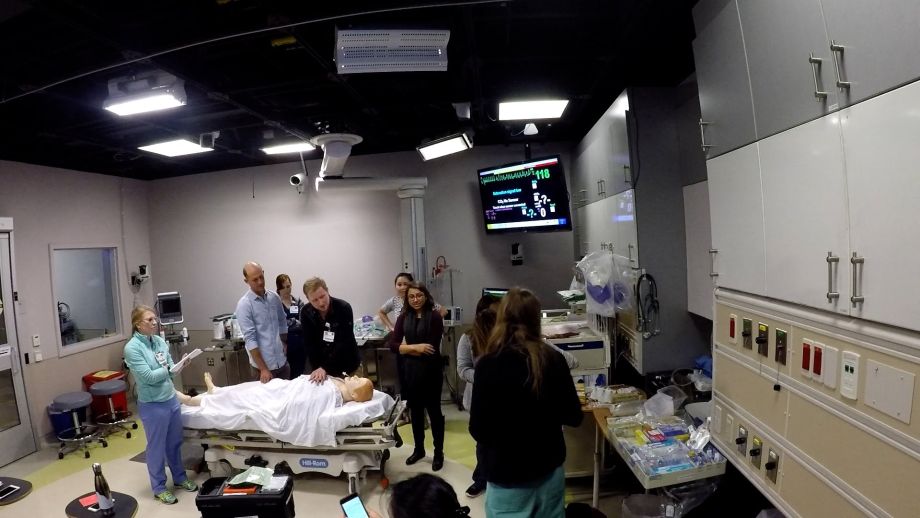 Salary & benefits
Salary
$56,650 per year, paid monthly
Insurance
Medical/Dental/Vision Plan and Professional Liability Insurance
Vacation / professional / sick leave
All residents will receive 10 days of paid vacation, and 10 days of paid professional leave. Professional leave may be used to attend professional meetings, and for post-graduate or professional job interviews. Additionally, all residents will receive up to 12 days of paid sick leave per academic year.
Travel stipend
All residents are provided with a stipend to support travel, lodging, and registration fees for the purposes of professional conferences. The amount of the travel stipend is determined each year and may not cover all travel expenses.
Additional benefits
Residents will be provided with a UCSF white coat, scrubs and access to the resident office workspace. Meal cards are provided with a value determined by the number of staffing hours assigned.
Application
General information
Appointment
July 1, 2020 to June 30, 2021
Positions available
PGY1 Pharmacy (NMS 176613) – 12 positions
PGY1 Pharmacy (NMS 176621) – 1 position (pediatric environment)
Recruitment
The Residency Program Director and residents recruit potential residency applicants at the following events:
California Society of Health-System Pharmacists (CSHP) Annual Seminar
American Society of Health-System Pharmacists (ASHP) Midyear Clinical Meeting
Open house
An annual open house event is offered in the fall for interested applicants. Attendees will have the opportunity to meet and ask questions of current and former residents, preceptors and the Residency Program Director. Tours of the campus and Medical Center will also be provided.
| | |
| --- | --- |
| Date | Monday, November 25, 2019 |
| Time | 3:00 to 6:00 PM |
| Deadline to RSVP | Thursday, November 21, 2019 |
|   | |
Requirements
Requirements for admission
Applicants must be a graduate of an ACPE-accredited college of pharmacy or otherwise be eligible for licensure in California.
Non-US and US citizens from foreign schools of pharmacy
Non-US citizens must be eligible to work and live in the US by obtaining an appropriate visa and must be eligible to work as a licensed pharmacist in California. We do not sponsor visas for foreign pharmacy residency applicants. Non-US and US citizens who graduate from a foreign school of pharmacy must first be certified by examination before the process of licensure in the US can begin. The Foreign Pharmacy Graduate Equivalency Committee ™ (FPGEC®) certificate program operates under the auspices of the National Association of Boards of Pharmacy®. The NABP® provides the FPGEC Certification Program as a means of documenting the educational equivalency of a candidate's foreign education, as well as the license and or registration to practice pharmacy. More information about this entire process is provided in these NABP® links: nabp.pharmacy.
How to apply
Match: All applicants must register for The Match – ASHP Resident Matching Program.
PhORCAS: Applications will be accepted through PhORCAS (Pharmacy Online Residency Centralized Application Service), a web-based pharmacy residency application system. The application deadline is December 31st.
Cover Letter: A cover letter describing the elements of the program that most interest you and how each element relates to your personal goals is also required.
Letters of Recommendation: We request a minimum of one (two is preferred) of your three references should come from a preceptor who you have worked with in a clinical setting, related to an APPE in acute or ambulatory care. The clinical preceptor should be able to comment on your scope of responsibility, total patient load, level of autonomy, clinical abilities, and organizational and time management skills. All 3-reference writers should use the standard PhORCAS template to submit their candidate recommendation and comment on a minimum of 7 of the 13 listed candidate characteristics.
Supplemental Application Materials: A response to the following essay statement is required for acceptance. The essay response should be no longer than one page in length. An application will not be reviewed if this statement is missing. Please note that the essay is separate from your cover letter. (NOTE: The essay response should be uploaded in the Supplemental Information section in PhORCAS. Space is limited to a max of 5 MB and must be provided in the following format: .pdf, .doc, .txt, .rtf.)
Reflect on a challenging situation (personal or professional) that required you to question your values or assumptions. How did you deal with the situation? What did you learn from the experience?
On-site interviews
Application reviews
Each PGY1 applicant packet is screened and scored by a member of the Resident Selection Committee. Screeners assess the following: communication skills, clinical experience (breadth, performance, scope of activity), personal/environmental factors (maturity, confidence, motivation, and adaptability), and work experience, aggregate letters of recommendation, leadership/initiative, teaching (interest and/or experience), research (interest and/or experience), extracurricular involvement and academic performance. The screening score is used to determine if an on-site interview will be granted. On-site interviews are offered to approximately 60 applicants each year.
On-site interviews
The interview process consists of two 45-minute panel interviews, and a personal interview with the Residency Program Director. Applicants are asked to prepare in advance a 10-minute presentation on a topic of their choice (not related to pharmacy or healthcare). Lunch is provided with select current residents and clinical pharmacists, in addition to a campus and medical center tour.
PGY1 Pharmacy Residency Interviews 2020:
Wednesday, January 22nd, 2020
Wednesday, January 29th, 2020
Wednesday, February 5th, 2020
Wednesday, February 12th, 2020
Wednesday, February 19th, 2020
Contact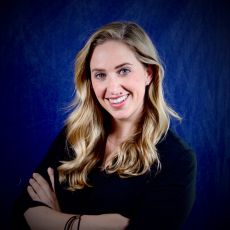 Mandy Morris, PharmD, BCPS, BCCCP
Residency Program Director, PGY1 Pharmacy
Critical Care Pharmacist, UCSF Medical Center
Assistant Clinical Professor, UCSF School of Pharmacy
Education & Post-Graduate Training
Doctor of Pharmacy, Touro University (2012)
PGY1 Pharmacy, UCSF Medical Center (2013)
PGY2 Critical Care, University of Colorado (2014)
Contact
UCSF UC Hall Box 0622
533 Parnassus Ave
San Francisco CA 94143
FedEx only: use zip 94122
tel: 415-353-8162
[email protected]