Kickoff Symposium and Roundtable Meetings
In this issue
TRANSPERS Center Kickoff Symposium and Roundtable Meetings: February 5, 2009
Kickoff Symposium
Collaborators, Board members, and other interested parties descended upon San Francisco for our annual Center for Translational and Policy Research on Personalized Medicine (TRANSPERS) meetings. In total nearly two hundred people, both locally and internationally, attended the four days of meetings, which included a Center collaborator meeting, our Kickoff symposium, a Roundtable session, and Advisory Board meetings. Attendees included local participants but also international leaders in the field of personalized medicine and senior-level representatives of academia, government, and industry.
The standing-room-only Kickoff Symposium featured Center Director Kathryn Phillips, who explained to audience members the opportunity that the TRANSPERS Center has to facilitate translation of research to policy and practice. The purpose and goal of the TRANSPERS Center, she noted, is to develop the evidence on how personalized medicine can be translated to improve health outcomes. Kathleen Behrens, PhD, and Dr. Paul Billings, two national personalized medicine policy leaders, spoke on behalf of the President's Council of Advisors of Science and Technology (PCAST) and the Secretary's Advisory Committee on Genetics, Health and Society (SACGHS), respectively. Both explained how current and future TRANSPERS Center studies will aid and influence their priorities and initiatives.
Kickoff Roundtable Meetings: current issues in personalized medicine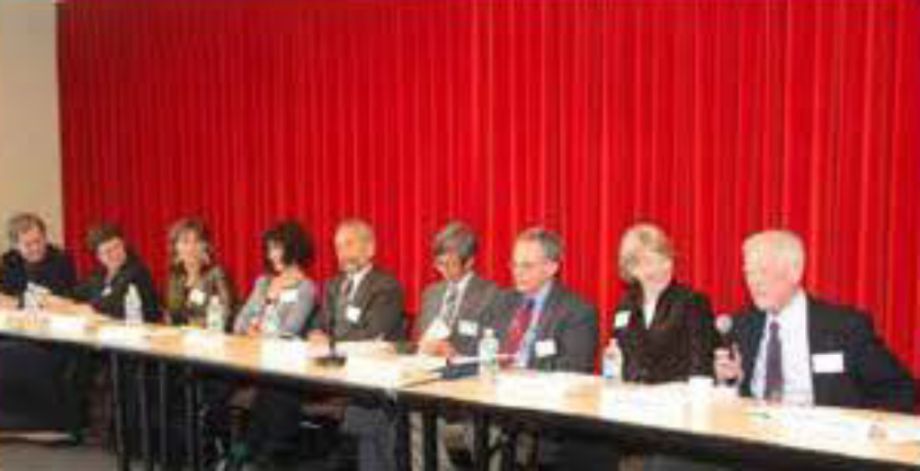 We had an enthusiastic response to our Current Issues in Personalized Medicine panel discussion with a panel of nine leading experts in personalized medicine. The discussion was lively and highlighted an array of opportunities for TRANSPERS to enrich the current research agenda and expand collaborations. Experts discussed how TRANSPERS could facilitate the translation of personalized medicine by building collaborations with other research groups and were encouraged by the potential opportunities our Center brings. Panelists described the dearth of knowledge in particular in the specific area of patient perspectives and behavior with respect to genetic and genomic tests - an area topic TRANSPERS is examining. Finally, there was a consensus that the time is now to work with policy makers and to reach out to government agencies interested in translating personalized medicine to practice is now. The panel was moderated by our Executive Director Stephanie Van Bebber.
TRANSPERS Center news
Center Principal Investigator Kathryn Phillips presents for the Institute of Medicine
TRANSPERS Center Principal Investigator Kathryn Phillips was invited to speak at the recent Workshop on Developing Systems for Evidence Generation, held by the Institute of Medicine.
TRANSPERS Center board continues to grow
Our TRANSPERS Center Board spans a diverse spectrum of institutions and stakeholders, including national and senior-level academics, government officials, and industry representatives. As our Center grows, so too does our Center Board. A recent addition is Geoffrey S. Ginsburg, MD, PhD, and founder and director of the Center for Genomic Medicine at the Duke University Institute for Genome Sciences & Policy. His research interests are in the development of novel paradigms for developing and translating genomic information into medical practice and the integration of personalized medicine into health care.
TRANSPERS Center research
How do physician assessments of patient preferences for colorectal cancer screening tests differ from actual preferences? A comparison in Canada and the United States using a stated-choice survey
TRANSPERS Center Executive Committee Member Deborah Marshall and co-authors compare utility-based preferences from a stated-preference discrete choice survey for colorectal cancer screening test use. They determine that although preferences of Canadians and Americans are similar, physicians' perception of patients' preferences are different than the general population. Health Economics. 2009; DOI: 10.1002/hec .1437. Published online first.
TPMT testing in azathioprine: a 'cost-effective use of healthcare resources'?
TRANSPERS Principal Investigator Kathryn Phillips is a co-author to this publication, the conclusion to which discusses the importance of better quality data for key parameters, the potential of an iterative approach to stimulate the production of a sufficient evidence base, and the importance of well-designed prospective studies in the example of thiopurine S-methyltransferase testing of thiopurine drugs. Personalized Medicine. 2009; 6(1):103-113.
A health services research agenda for cellular, molecular, and genomic technologies in cancer care
TRANSPERS Principal Investigator Kathryn Phillips and Center Board Members Muin Khoury and Louise Wideroff review workshops that focused on the development and use of cellular, molecular, and genomic technologies as they related to effective routine cancer care. Pub Health Genomics. 2009; DOI: 10.1159/000203779. Published online first.
Closing the evidence gap in the use of emerging testing technologies in clinical practice
Using the well-known example of HER-2 testing for breast cancer and Herceptin treatment, TRANSPERS Center Principal Investigator Kathryn Phillips discusses the need to build an evidence base to support decision making in using new testing technologies in clinical practice, concluding with four potential solutions for closing this "evidence gap." JAMA. 2008; 300:2542-44.
TRANSPERS exec comm member publishes in the New England Journal of Medicine
TRANSPERS Executive Committee Member Judith Walsh writes in her Perspective "Pay Now, Benefits May Follow - The Case of Cardiac Computed Tomographic Angiography" that, although the current political environment and medical culture act as obstacles, an evidence-based approach to insurance coverage will both curb ballooning health care expenditures and increase value in health care. The New England Journal of Medicine. 2008; 359(22):2309-11.
In press
Ikediobi ON, Shin J, Nussbaum R, Phillips KA, and members of the TRANSPERS Center (Walsh J, Ladabaum U, Marshall D). Addressing the Challenges of the Clinical Application of Pharmacogenetic Testing. Clinical Pharmacology and Therapeutics.
Ferrusi IL, Marshall DA, Kulin NA, Leighl NB, Phillips KA. Looking Back at 10 Years of Trastuzumab Therapy: What is the Role of HER2 Testing? A Systematic Review of Health Economic Analyses. Personalized Medicine.
Phillips KA, Marshall DA, Haas JS, Elkin E, Liang SY, Hassett MJ, Ferrusi I, Brock JE, Van Bebber SL. Clinical Practice Patterns and Cost-Effectiveness of HER2 Testing Strategies in Breast Cancer Patients. Cancer.
TRANSPERS Center and Center members in the news
UCSF Center Tackles Issues Surrounding Customized Health Care. UCSF Today, February 12, 2009
UCSF customizes medication to genes, lifestyle. San Francisco Chronicle, February 5, 2009
Symposium on Personalized Medicine to Feature UCSF Faculty. UCSF Today, January 28, 2009
UCSF wins $5M NCI grant for personalized medicine. San Francisco Business Times, October 31, 2008
Fast-Changing Field of Medical Genetics Embraces Personalized Medicine. UCSF Today, October 21, 2008
Personalized medicine in the news
U.S. to Compare Medical Treatments. The New York Times, February 16, 2009. As part of the $787 billion dollar economic stimulus package approved by Congress, researchers will receive $1.1 billion to conduct comparative effectiveness research.
Francis Collins Addresses State of Personalized Medicine. GenomeWeb News, January 30, 2009. Dr. Francis Collins, former director of the National Human Genome Research Institute, discussed the promise and the future of personalized medicine at the Personalized Medicine Coalition meeting in late January.
Holdren Named Science Adviser. Varmus, Lander to Co-Chair PCAST. Science, January 2, 2009. President Obama has selected Harvard physicist John Holdren as Director of the White House Office of Science and Technology Policy. In this position, Holdren will co-chair the President's Council of Advisors on Science and Technology (PCAST) with Harold Varmus, president of Memorial Sloan Kettering Cancer Center and Eric Lander, director of the Broad Institute.
Patient's DNA May Be Signal to Tailor Medication. The New York Times, December 29, 2008. Genetic tests can show which patients are suited to which drugs, but obstacles remain for personalized medicine.
Obama to broaden genetics role in medical care. Associated Press, November 28, 2008. The pursuit of "personalized medicine" is expected to get a major push from the incoming administration of President-elect Barack Obama.
Report watch
From the Deloitte Center for Health Solutions: The ROI of Targeted Therapies: A Strategic Perspective
Recommendations from the EGAPP Working Group: genetic testing strategies in newly diagnosed individuals with colorectal cancer aimed at reducing morbidity and mortality from Lynch syndrome in relatives
Recommendations from the EGAPP Working Group: can tumor gene expression profiling improve outcomes in patients with breast cancer?
Keywords