Find a Place to Live
Campus housing
UCSF has a number of campus housing options at the Parnassus and Mission Bay campuses.
About campus housing at Mission Bay
The Mission Bay campus housing complex offers a variety of single and shared apartment options. The Mission Bay campus is a considerable distance from Parnassus, the site of PharmD classes, the library, and computer labs. A free campus shuttle transports students between the Mission Bay and Parnassus campuses; the ride is 20 minutes.
When to apply
If you plan to apply for campus housing at Aldea/Parnassus or Mission Bay, we recommend that you do so as soon as possible. Priority is based on earliest move-in date.
How to apply
To apply for student housing, visit Housing Services. After you apply for and receive a housing offer, submit a copy of the admissions offer letter you received from our office. You may fax a copy of this letter along with your housing contract to Housing Services.
About wireless printing
In campus housing where UCSF provides internet, a technical limitation exists whereby you cannot set up wireless printing from laptops or mobile devices to printers in your apartment. You can work around this problem by printing via wired methods such as USB.
Questions about campus housing?
Contact Housing Services ([email protected]).
Apartment rentals
After UCSF Housing Services, the listings are sorted alphabetically.
Internet and Other Home Services
InMyArea is a service that allows you to find providers and compare prices for internet, cable TV, and other home services available in your specific area. This service is at no cost to students and includes free relocation consultations.
Street View
Google Maps includes street-level photographs of many San Francisco streets. You can use this site to see what a house, apartment, or neighborhood looks like right from your web browser.
Home furnishings
Need to furnish your space? Try these links:
Zip codes
Knowing San Francisco zip codes can be helpful when seeking housing. See a map of San Francisco zip codes: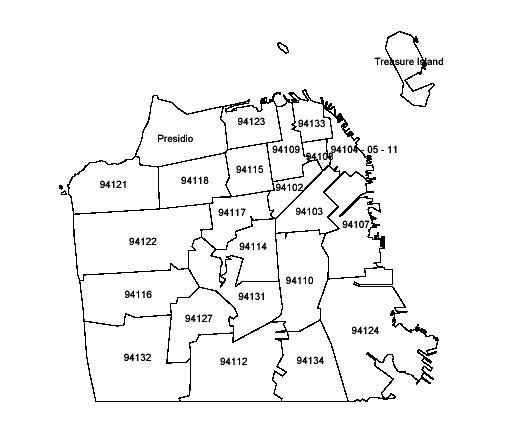 Neighborhoods
See Google Images for maps of the various neighborhoods in San Francisco.
More